繁中
Red Minibus Route
Shek Lei Pui - Kwai Fong
Shek Lei Pui
↔
Kwai Fong Station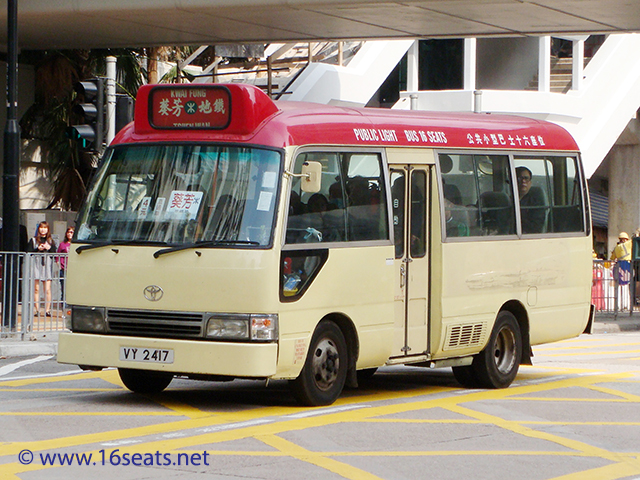 Advertisement // scroll to continue

From Shek Lei Pui
via Kwai Chung Plaza
Cash payment with changes available.
✓ Octopus
Gov't $2 Concession Scheme
Eligible to PTFSS
Ordinary Routeing
Major Boarding and Alighting Point
Wai Kek St
Shek On Hse Shek Lei Est
Tai Loong St
Shek Pui St
Shek Ying Path
Wo Yi Hop Rd
The Apex
Regent Centre
Shek Yi Rd
Hing Fong Rd
Osman Ramju Sadick Memorial Sports Centre
Kwai Fong Est
Wo Yi Hop Rd
Riley House
Ta Chuen Ping St
Tai Pak Tin St
Kwai Chung Fa Yuen
Shek Li St
Shek Foon Hse Shek Lei Est
Shek Yan Hse Shek Lei Est
Blk 11 Shek Lei Est
Shek Wai Hse Shek Lei Est
Advertisement // scroll to continue

---
Additional Information
Operator
Hong Kong Public & Maxicab Light Bus United Association (Shek Lei Branch)
Operator enjoys full autonomy on service hours, fare and routeing. The above service particulars are conventional upon Operator's final decision.
Routeing may be altered subject to actual patronage and traffic condition. Please be attentive to the driver's instruction and your alighting location during the journey.
Last update: 27 Feb 2022